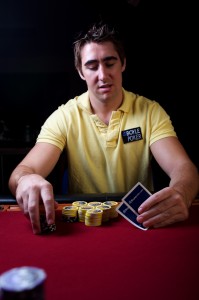 It's 9am in sunny Los Angeles. John O'Shea is off to bed for some well-deserved rest after 12 hours straight at the poker table. But the 27-year-old Dubliner sounds decidedly downbeat. He's had a bad run on the green baize over four or five days and has lost $150,000 (€112,000) — about 25pc of his bankroll, or float.
For most ordinary punters, this would be unimaginable. But for O'Shea, it's just another day at the office.
That week's loss isn't exactly small change — even by O'Shea's high standards — but with estimated career profits of $2m (€1.5m), there's plenty more left in the kitty.
O'Shea is doing what thousands of Irish online players dream about: he gave up his well-paid job to become a poker professional. And, although he doesn't regret the decision, he's no longer starry-eyed about his career change.
"When I go at it, I go at it pretty hard. You could easily play seven days straight, 14 hours a day. But when you're on a bad run you just want the world to fall on you."
In a blog chronicling his poker travels, he colourfully describes this year as "swingy" and his emotions as "up and down like a whore's knickers".
He gambles "bigger amounts of money than probably anyone in Ireland" but insists he would never risk his last €100,000, although he's come close on one or two occasions.
Does his life live up to the image of the sophisticated gambler, jet-setting around the world to exotic locations, surrounded by stunning women in luxurious hotels?
The poker circuit has already taken him to most of Europe, America, South America, Morocco, the Bahamas and the Philippines — but O'Shea laughs at the perception of the poker lifestyle as glamorous.
"It's a great way to see lots of mediocre hotel rooms all over the world. If you're not sitting at the table grinding, you're not earning," he says.
And the only advances he's had were not from the fairer sex, but rather a guy in Las Vegas who wanted to be his "guru" in return for a few per cent of his winnings.
The 'LA Poker Classic' is a long way from the dark, smoke-filled back-rooms of the Hollywood movies, where middle-aged, whiskey-slugging card sharks hustled cocky young guns for the last of their chip stack.
The modern game is all about the grind. Endless hours of deep concentration, punctuated by brief, fleeting moments of adrenaline-filled highs and lows.
And even more hours spent watching, listening, calculating the odds and intensely observing your opponents — trying to establish a pattern of play so you can exploit the smallest chink in their armour.  It's perhaps the ultimate in psychological warfare.
On the plus side, O'Shea says he loves the independence of being his own boss and the freedom to decide when and where he works. He still gets a "thrill" of winning and "getting one up" on the competition.
What makes him better than all the online wannabes? What's his secret weapon?
He cites bankroll management and not gut instinct as the most important poker skill.
"Each year you plan out where you are going to concentrate your efforts — tournaments, cash games, sports betting, online, live, what countries, what parts of the world," he says.
And outside of poker? Making a relationship work is "tougher than most things" as it's not unusual for him to work 80 or 90 hours a week. And the fact that his girlfriend Caroline has recently moved to Australia hasn't helped. O'Shea is planning to spend some time there with her later this year.
Growing up in Dublin's Churchtown with an older brother and two younger sisters, O'Shea's earliest poker memory is playing at home as a six-year-old.
His parents wanted him to get a good education, hence a degree in commerce and a job in his early twenties with consulting firm, KPMG.
He completed a Masters in accounting in 2007, but all through that year, O'Shea knew that a move to the professional ranks was imminent. "I definitely wasn't trying in work," he admits, and in a frank discussion with his manager he quit — against the wishes of his parents.
But it wasn't long before they realised that their son had a special talent for making poker pay.
Within a few short months, his single-minded determination and dogged persistence earned him a handsome pay-day of $100,000 in Las Vegas — one of the biggest he's ever had in a live tournament.
A sponsorship deal with Boylepoker followed putting him firmly on the poker map.
And the future? He has set himself an ambitious goal of being financially independent by the time he's 30 and is thinking about setting up a business in property or fitness. If, of course, he's played his cards right . . .
The Paddy Power Irish Open takes place from tomorrow to Monday April 9 in the Burlington Hotel, Dublin. Further information from www.paddypowerpoker.com
Appeared in Irish Independent, Thursday 5 April, 2012.
Click here for online version.
https://profitmarketing.ie/wp-content/uploads/2020/11/profitlogo-website.png
0
0
Deirdre
https://profitmarketing.ie/wp-content/uploads/2020/11/profitlogo-website.png
Deirdre
2012-04-07 12:51:19
2014-03-17 21:49:12
I've made over €2m from poker — but don't tell me it's glamorous