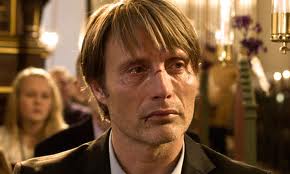 5/5
Now and again a movie comes along, whose powerful and disturbing images stay with you long after the credits have rolled.  Now and again an extraordinary screen performance evokes such intense pain and raw emotion that you leave the theatre stunned into silence, almost numbed by the previous 115 minutes of pure cinematic genius.
Danish production, The Hunt (Jagten) is such a movie; a harrowing, deeply unsettling story of the devastating consequences for kindergarten teacher, Lucas (Mads Mikkelsen), falsely accused of molesting Klara (Anika Wedderkopp),  his best friend's daughter.
Angered by Lucas's gentle rejection of her at playtime when she kisses him on the lips, Klara alleges to another teacher that improprieties have taken place.  Although the child subsequently tries to retract the claim, it sets in train a series of events which shatter the gentle teacher, who is trying to rebuild his life with a new relationship and regain custody of his son, following a painful divorce.
Lucas deals with the situation as best he can by quietly protesting his innocence.  His soft demeanour though is betrayed by his eyes which portray deep pain, hurt and anguish at the allegations made against him.
The small community quickly circle the wagons and an assumption of guilt is made.  There is no attempt made to listen to Lucas and the child is believed, without question.  In one scene, a social worker who conducts an interview with the youngster practically puts words in her mouth, willing her on to confirm his suspicions.
But for Lucas, the lie has become the truth and his ostracization from the community coupled with personal attacks on him, his son, his home and pet dog are deeply unsettling to watch.
Beautifully photographed and simply told, The Hunt is movie-making at its best.  There are no household names, blockbuster Hollywood budgets or special technical effects.  The production values are stripped back to the bone yielding a visual simplicity that is utterly compelling and gripping to watch.
The Hunt marks a successful return to the big screen for Danish writer and producer, Thomas Vinterberg.  It's not the first time he has tackled the theme of child abuse.  He first burst onto the international scene with Festen (The Celebration) in 1998, a story which revolves around the 60th birthday celebration of Helge Klingenfeldt Hansen at which his son reveals a litany of child sex abuse by his father.  The Hunt deals with the subject from a different standpoint but the director makes it clear that all are victims.
The Hunt introduces a theme which perhaps for some is uncomfortable to contemplate.  Given the long legacy of institutional and church abuse in our own country, it's easy to see how the story of Lucas could easily be replicated here.  Our attitude in dealing with such allegations has changed fundamentally.  The welfare and wellbeing of the child is placed at the centre and rightly so.  In fact, our 'Children First' guidelines tell us that children are entitled to be believed when they come forward.   But The Hunt poses the question whether we as a society are too quick to jump to conclusions and whether we should be open to other possibilities.
Mikkelsen delivers a career-defining performance in The Hunt (he also stars in Denmark's official Oscar entry A Royal Affair) and deserves at least to be shortlisted for an Oscar in 2013.  If you want to avoid the usual festive fare from Hollywood over the holiday season and want to see a real movie, catch The Hunt.  I can't promise that you'll have a pep in your step as you leave the theatre but you will experience a beautiful but harrowing piece of movie magic.
https://profitmarketing.ie/wp-content/uploads/2020/11/profitlogo-website.png
0
0
Deirdre
https://profitmarketing.ie/wp-content/uploads/2020/11/profitlogo-website.png
Deirdre
2012-12-02 18:44:51
2013-10-18 23:01:06
Review of The Hunt starring Mads Mikkelsen