HIV is a manageable condition thanks to medical advancements.   But its psychological aspects can be far more destructive, writes Deirdre Cashion.
It would be easy to write about HIV (human immunodeficiency virus) in the all-too-familiar context of social disadvantage, hard core drug use and promiscuous sexual behaviour.  But that would miss the point.
HIV is like many serious illnesses or diseases, its onset triggered by what is euphemistically referred to as 'risky behaviour'.  Yet we all engage in 'risky behaviour' to a greater or lesser degree.
We smoke to excess; we drink to excess; we eat to excess and fail to exercise.  We engage in unprotected sex.  We often put our fragile lives in harm's way with just a fleeting thought for our physical wellbeing and those dependent on us.
So why does a diagnosis of HIV still carry with it such deep-seated social stigma and severe psychological turmoil for those infected with the illness?
Sandra is 41, the eldest of five children.  She grew up in Dublin's inner city.
"We're tired of being seen as victims, as something that was picked up on the end of your shoe," she says.  "I'm a woman, a sister, a daughter, wife and mother. I'm a friend, I work and I have HIV.
"You're not going to die of HIV any more.  But it's the mental anguish it causes, the social isolation and the terribly negative feelings it brings up for the individual.  Where did this idea come from that the person is dirty?   You don't feel dirty when you're diagnosed with cancer.
"With some mistakes, you wake up the next morning, have a shower and that's it. With other mistakes you're told you're HIV and Hepatitis C positive," she points out.
Sandra is married with children.  She met her husband at the tender age of 17 and they are still together.  She was diagnosed 11 years ago after the birth of her four daughters.
She visits the HIV clinic every three months to monitor her condition and takes four tablets a day, which keep her alive.  The severe side effects of the medication cause lipodystrophy – an uneven distribution of fat around her body, which results in a loss of fat from her legs but deposits to her waist.  Her inner thigh muscles have wasted, leaving her in constant pain with her knees and to top it all, she gets ulcers in her oesophagus.
But it's the on-going psychological trauma of the diagnosis that she constantly wrestles with.
"I would love to be able to give you a photograph of myself and say, 'This is Sandra and she has HIV', but I'm still hiding behind this wall of shame and guilt that doesn't belong to me," she says.
"I can't come forward because society will not accept me.  Society will punish me for doing that and my family will get the backlash.  So if I can't get society to accept me, I can give hope to other people living with HIV and that's what I am trying to do."
Despite her illness, Sandra leads a very busy life.  She is involved in an amateur dramatics group that has produced three DVDs about Hepatitis C and works with newly-diagnosed HIV sufferers in Open Heart House, a peer-support organisation.  She also talks to nursing staff and doctors in Dublin's hospitals about how they can better interact with HIV drug users.   Through her work, she has come to know people from all walks of life.
"HIV doesn't discriminate between a posh upbringing and a really poor upbringing, between black and white," she says.  "All it takes is not to engage in safe sex. But when I get to meet people here, it's too late for me to give them that advice. So my responsibility is to help them to come to terms with their HIV diagnosis and to learn to live with it," she explains.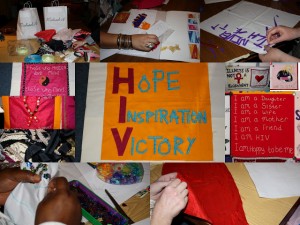 There were 342 people diagnosed with HIV in Ireland in 2012 according to the Health Protection Surveillance Centre of the HSE.  That's 245 men and 97 women condemned to a life smothered by an impenetrable blanket of enforced secrecy and shame, which can cause as much damage to the delicate human psyche through self-stigmatisation as the illness does to the compromised immune system itself.
Mary is 42 and is the youngest of a family of five.  She has three daughters and two grandchildren and is also from Dublin's inner city.
She was diagnosed 18 years ago, after the birth of her children.  She doesn't know how she contracted the virus but her partner was diagnosed positive and this prompted a test.
"I didn't realise how serious it was at the time," she admits.  "My kids were young when I told them and the first thing they asked was, 'Are you going to die?'.  They worry about me all the time."
Mary attended counselling once a week for a while but admits that she just went there 'for the cup of tea' and never really spoke in-depth about the issues surrounding her diagnosis.
"It doesn't matter what people or counsellors say to you," she says.  "You have to be able to forgive yourself.  It's really about learning to sit with yourself."
Through prolonged drug use, Mary lost one of her legs 12 years ago, which severely hampers her mobility as she moves around on a pair of crutches.
"I get very lonely on my own and with not going out, the loneliness sets in. But sometimes I forget I have HIV because if you keep thinking I could die, it would get you into a very negative frame of mind.  I'd like people to see me a person.  There's more to me than HIV," she says.
Mary believes that if she didn't have HIV she would be treated very differently by the health services.  "I reckon if I had a car accident and if my leg was gone they would do all they can."
She would dearly love a prosthetic limb to improve her mobility and continues to patiently wait for that liberating day to come.
Since successfully completing a methadone programme four years ago, Mary has managed to turn her life around.  A big part of it centres on social interaction and support from friends in Open Heart House, where her story-telling skills are legendary.  She aims to return to school in the autumn to complete her Leaving Certificate and commit some of those stories to paper.
But she still has a fear of "not being accepted and not belonging anywhere".
"When I'm up here, I feel I belong," she says.  "They know, this is who I am and this is where I am accepted. But when I go through this door, it's different."
Open Heart House provides meals, therapies and a range of services in a discreet and confidential environment for people who feel isolated and marginalised.  The organisation has 1200 members; approx. 40 pc from the MSM (men who have sex with men) community, 30 pc from the heterosexual community and 30 pc who are intravenous drug users.  55 pc of its membership are referred by the three main Dublin hospitals.
According to David O'Duffy, operations manager with Open Heart House, HIV and aging is an issue, which is growing in importance with the passage of time.
"There's been a lot of fanfare in the last number of years and rightly so, about the fact that it's not a terminal illness any more. You can take your meds and you'll be ok.  But we're looking at a whole cohort of society, who will be living longer with HIV and we are researching if there are going to be any issues for those individuals as they get older."
Studies from the US suggest a plethora of additional physical ailments such as a higher instance of osteoporosis, liver disease and heart disease.  There is also anecdotal evidence of higher rates of depression.
"We've 200 members who are over 50 and with every year that passes we'll be getting a higher number who are 50 and over," says Mr O'Duffy.  "People's social networks change as they get older – they require more social care networks of support, particularly if there is a higher instance of isolation where a person lives on their own.
"My own view would be that we need to be looking at the long view rather than having a short sighted approach of let's put a band aid over it and hope it all goes well."
HIV and society's tempered, rigid attitude to it has entombed a generation of women who are courageous, motivated, creative and generous of spirit.  This is a lost generation to us all and society could well be the poorer for it.
"My diagnosis of HIV changed my life," concludes Sandra.  "Initially it destroyed it but then I said to myself 'I'm not going to let this beat me'.  If I can get myself out of bed in the morning and I choose to go for a walk, that's a good day because I'm not dependent on anybody and everything else is a bonus."
To mark Irish AIDS Day on 15 June 2013, women from Open Heart House in Dublin have created a Quilt of Hope to positively represent women living with HIV in Ireland.   It will be on public display from 15 May to 15 June at the Irish Aid Centre, O' Connell St, Dublin, from 16 June to 15 July at Christchurch Cathedral, Dublin and at other venues nationwide. For more information, visit www.openhearthouse.ie .
This article appeared in the 'Health & Living' supplement of the Irish Independent on 10th June 2013.

https://profitmarketing.ie/wp-content/uploads/2020/11/profitlogo-website.png
0
0
Deirdre
https://profitmarketing.ie/wp-content/uploads/2020/11/profitlogo-website.png
Deirdre
2013-06-10 16:29:56
2014-03-17 21:33:23
"I'm a woman, a sister, a daughter, wife and mother. I have HIV."