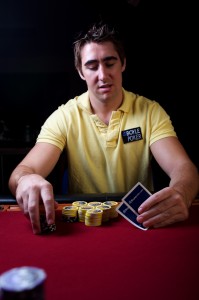 It's 9am in sunny Los Angeles. John O'Shea is off to bed for some well-deserved rest after 12 hours straight at the poker table. But the 27-year-old Dubliner sounds decidedly downbeat. He's had a bad run on the green baize over four or five days and has lost $150,000 (€112,000) — about 25pc of his bankroll, or float.
For most ordinary punters, this would be unimaginable. But for O'Shea, it's just another day at the office.
That week's loss isn't exactly small change — even by O'Shea's high standards — but with estimated career profits of $2m (€1.5m), there's plenty more left in the kitty.
O'Shea is doing what thousands of Irish online players dream about: he gave up his well-paid job to become a poker professional. And, although he doesn't regret the decision, he's no longer starry-eyed about his career change. Read more
https://profitmarketing.ie/wp-content/uploads/2020/11/profitlogo-website.png
0
0
Deirdre
https://profitmarketing.ie/wp-content/uploads/2020/11/profitlogo-website.png
Deirdre
2012-04-07 12:51:19
2014-03-17 21:49:12
I've made over €2m from poker — but don't tell me it's glamorous